Please note that affiliate links may be included in some posts.
In the case study below, I documented a Twitter challenge I underwent for NicheFacts.com.
Though the Twitter challenge is finished- the case study below outlines the lessons I learned doing 10 replies a day on Twitter.
In my ongoing quest to grow NicheFacts.com, I've been pursuing different growth strategies.
Since organic traffic is so hard to come by in the 'make money online' niche, I haven't really focused on that. Instead, I've been:
I've been thinking, what else can I do?
I decided that I would also would like to use Twitter. I don't want to run ads on Twitter right now, but I would like to genuinely engage with other users with the goal of growing traffic to my site and acquiring subscribers.
So, I've decided to embark on a Twitter challenge. (The challenge is now concluded. You can read my post-mortem at the bottom of the page.)
The Twitter Challenge
For the next 30 days (starting 11/12/17), I'm going to post 10 genuine replies a day using my NicheFacts Twitter account.
I also set up an If This Then That recipe that tracks all of my Tweets in a Google Sheet.
You can view my Google Sheet here.
Joining The Twitter Challenge
If you want to join the challenge, use this page to submit your information. And make sure you use Twitter Analytics for some data insights about your performance!
All I ask is that you provide a short blurb about your goals before you start and at the end of the 30 days I'll reach out to find out what you've learned & achieved.
Why Should You Care?
If you're trying to growth-hack a niche business and get some traffic, engaging with your target audience on Twitter can be a powerful and targeted way of increasing your reach for free. Twitter by the way has more than 353.1 million users and 206 million daily active users worldwide.
Too often (and I'm guilty of this, as well) social media is an automated afterthought- a place to throw 'right hooks' instead of 'jabs' as Gary Vaynerchuk would say.
This experiment will examine how effective authentic Twitter engagement is for growing an audience. It's about the jab- not the right hook.
At the end of 30 days I'll be able to report to you what I've learned. And you can implement these best practices yourself. Or even participate alongside me!
What's The Goal?
Increased traffic

Email sign-ups

Increased influencer visibility
In terms of what I'm hoping to achieve, I'd like to get more traffic to the site, get more subscribers, and also become more visible to some of the big names in SEO and niche site publishing like Brian Dean, Neil Patel, etc.
It'll be a little difficult to measure my success on influencer visibility, but I'll try to figure out what that looks like as I go through the challenge.
(I already got a like from Gary Vaynerchuk!)
What's The Strategy?
The strategy will evolve over the next 30 days, but for now I'll use different hashtags like #seo, #wordpress, #contemarketing, etc. to find interesting content and post a 'thoughtful' comment reply.
I'll be able to assess some important statistics using Google Analytics.
I'm also going to mention some of my favorite bloggers in my replies. If the reply gets some traction, every time that blogger is mentioned within Twitter, they'll get a notification.
For example, I mentioned one of my favorites, Matthew Woodward, in this Tweet reply:
Read More Of My Niche Reports
Lessons Learned
I'll compile an ongoing list of the lessons I've learned doing this here.
Search out hashtags with interesting content- you'll learn something as you reply. Kills two birds with one stone.
Use Twitter's Advanced Search to laser-target the content you're replying to. You can even filter Tweets down by location- so if you want to network locally, this can jump-start local connections.
When replying to a Tweeted article, involve the website brand and/or author by looping them into your comment with the @ function. This helps increase engagement.
When playing in a particular hashtag vertical (i.e. #contentmarketing), add different hashtags into your response for added exposure.
You can easily add gifs into your replies- this is another fun way of distinguishing yourself.
Avoid commenting on Tweets that are obviously spam- there are lots of Twitter accounts pumping out auto-Tweets. Not always easy to see- but once you develop an eye for them, avoid replying because it doesn't create engagement.
Make sure you Pin a Tweet to your profile- that way when people click through you can showcase content you want them to see. I've even seen case studies where people ask for Retweets on their Pinned Tweet.
If you really want to target influencers- capture all of their Twitter handles in a Google Sheet so you can organize and document your touch points with them. For example, mentioning them once a week, Retweeting them once a week, etc.
Even if the Tweet you're replying to is auto-spam, if you loop other people into the conversation, you can get some good engagement.
I'm consider revising my strategy- instead of just Replying, click Retweet and then add the Reply. This means your Followers will see the Retweet & Reply, giving you greater exposure. Plus the original Tweeter values this exposure more than just a Reply.
Make a list of the top 100 people you want to connect with, find them on Twitter, and engage with them. Look at their last 3 or 4 Tweets, get a sense of what they're about, and think about how you can bring value to the first exchange. Gary Vaynerchuk discusses this here as an Instagram strategy- but it works for Twitter, as well.
Daily Updates
I'll update this section as I go through the challenge and include some of my Tweet replies.
11/12/17: I've done my 10 Twitter replies for the day.
11/13/17: I've done my 10 Twitter replies for the day + I got a like from Gary Vaynerchuk
11/14/17: Another 10 down. Got a Like from UpWork (link).
I realized that all the Tweets I had previously embedded using Twitter's embed option broke- so I replaced them with images.
It's actually pretty fun posting on Twitter- people genuinely appreciate legitimate comments on their content. I know that I've long used Twitter as an auto-syndication platform to market my content, or twice a year to check NBA trade & NBA draft day activity.
It's interesting to actually use the platform in a native and authentic way- like it's supposed to be used. Who knew?
I also get into interesting conversations- for example, I've been talking to a conversion expert on how she delivers numerous content upgrades as part of her email acquisition strategy.
11/15/17: Mowed another 10 down. I've started including Twitter mentions more in my replies. You can loop different people into the conversation- they'll get notified when they're mentioned on Twitter.
I get these notifications on my phone. This is a super-targeted way to gain exposure. Imagine, Gary Vaynerchuk, or another mega-influencer, gets a personal push notification about your comment on their phone!
It's nuts!
Here's how mentions work according to Twitter:
How to post a mention:
Type your message in the Tweet compose box. 
Type the "@" symbol before the username(s) when addressing a particular account(s). 
Example: "I'm Tweeting on @Twitter!"
Click or tap Tweet to post.
Note: If your Tweet is a reply, the icon to post will say Reply. When posted, the @username in your Tweet will become a link to the account's profile page (Source)
Some highlights- my comment got Liked by UpWork yesterday. I also discovered Twitter Analytics- I'll be evaluating this data as I go forward. It provides lots of insights about your performance.
11/16/17: I've been playing around with a different strategy today- using the free Tweepi search to analyze a User's followers and then manually replying to one of their Tweets.
For example, since my ideal audience is similar to Patt Flynn's (Smart Passive Income), I can plug him in to the tool and see his followers, when they most recently Tweeted, and how many Followers they have.
This way I can engage with a targeted user base while also ensuring I only click into profiles with recent activity- i.e. not a 'dead' account.
For example, I found Kyle Bailey doing this strategy- I clicked into his Quora article, followed him on Quora, and commented on what he said in his Quora post.
In turn he Retweeted a bunch of my content, including my Pinned Tweet, which is one of my strongest converting pieces of content, and followed me on Quora.
11/17/17: Another 10 comments down- site traffic has definitely picked up, but I'm not seeing any email signups. Yesterday's strategy of hunting down active Twitter followers of relevant users (i.e. Pat Flynn) was a lot of extra work and typing (which I don't like to overdo).
So I went back to commenting on #contentmarketing Tweets, which I find are less spammy tweets than the #SEO Twitter feed plus they're interesting to read.
I was thinking that for specific outcomes, as opposed to my general commenting strategy, if you wanted to get a guest blogging opportunity on a mega-site, for example, you could get some insane awareness engaging with brands on Twitter.
Before doing the Twitter experiment, and say you're targeting backlinks, I'd list out a bunch of targets and engage with them every day for 30 days and see if I could leverage your efforts into a credible ask. For instance, I could target SearchEngineJournal- targeting specific author Twitter profiles as well as the main Twitter account.
11/21/17: I'm realizing how spammy the #seo hashtag is- it's just auto-Tweets. I get very little engagement return on my Twitter replies. I like the #contentmarketing hashtag- lots of genuine content, primarily because auto-spamming is antithetical to genuine content marketers.
I keep thinking that I should be targeting my replies towards a particular goal- like it would be pretty cool if Ahrefs took notice of my endorsements and upgraded my account for free.
Besides traffic and email signups, probably the highest value thing I could get would be a guest post on a significant SEO blog. I'll have to think this over- I might carve out a mini campaign in the remaining 30 days to see if I can achieve a specific outcome going forward.
11/22/17: Another thing I'm realizing- since so many Tweets are just done automatically, your Reply may not get noticed. But if you loop other people into the Reply, you get more bang for your buck.
For example, if someone auto-tweeted an article- make sure you find the article author on Twitter and include them in your comment. And if the author just writes for the website- include both the brand/company and the author for maximum exposure!
11/25/17: I started including gifs in all of my replies- it definitely makes them more visually striking.
11/27/17: I'm about halfway through the challenge. Honestly, somewhat disappointed I haven't seen more email signups. I think the key is to get Retweets. I'll get a lot of Likes on my Replies, but that doesn't actually get me any exposure.
It's a valuable learning- if you're trying to use Twitter to growth hack a new blog, affiliate site, or eCommerce store, the key is to get visibility. With my comments, I'm definitely targeting Retweets. I think this comes from offering an insightful comment and judiciously using @ mentions to notify individuals and brands that they've been mentioned.
11/29/17: Really mailed it in today- did 10, but rushed through it. Another smart Twitter growth-hack strategy I've come across is, if you have questions about something, interact in that content space and get answers for free!
For example, I was interacting with some WordPress security specialists about a brute force attack one of my sites is undergoing. People are definitely willing to help. I'm a big fan of nailing two birds with one stone.
Another idea I've had is to use a Twitter challenge to simultaneously grow a secondary social profile like Quora.
I played around with this a bit- finding Quora responses I liked, following the author, upvoting the answer, and then Tweeting the Quora answer while using @ to mention the author on Twitter. This resulted in the Quora author following me back.
12/1/17: Was super lazy today with the Twitter replies. I usually do them in the morning, which is my most productive time, so sometimes I'm annoyed that I have to commit time to do them. I'm honestly pretty happy that I'm doing the challenge- it really accustoms me to stepping out from behind the curtain and being more public-facing.
Also, 'Likes' are basically meaningless- no one sees them. It's an empty, non-committal gesture because they get ZERO visibility.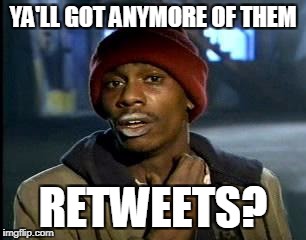 I'm also realizing that if you want to growth-hack Twitter, you'll want to have a specific goal in mind and specific strategies. I'm seeing almost zero email signups from my strategy- so it's so far a failure on that front. I think it can work for email signups- it just requires some tweaking on my end. Perhaps even being more promotional.
The discipline of commenting 10x a day is also useful- it bakes promotion into your brain, so to speak.
12/2/17: Another day of Twitter engagement featuring a winning exchange with Christoph Trappe (@CTrappe):
In all seriousness- you don't need to be a stuffed-shirt on Twitter. I've definitely been guilty of that throughout this 30-day challenge.
A lot of my Replies have been pretty dry- but if you have a fun personality, or at least are able to convey a fun personality through the internet, Twitter conversations could be a great vehicle for your marketing goal.
Personally, I grew up obsessed with creative writing- but after 3 years as a Business Analyst at a startup, my writing has become much more cut and dry. Not as colorful or personable- definitely something I need to work on.
Especially if I'm looking to become a more capable email marketer.
Another confession- I started my passive-income/affiliate journey because I didn't want to rely on anyone for a living. I didn't want to deal with corporate politics.
And I succeeded!
But that sort of single-minded, solopreneurship hampers me somewhat when it comes to outreach or attempting engagement.
I don't actually need anyone to succeed- I'm not selling a service. I don't need customers. But at the same time, if I want to grow NicheFacts, I do to some extent depend on other people liking and promoting it. Because it's definitely not an SEO opportunity!
12/5/17: I've realized that a better amplification strategy is to actually Retweet my Replies instead of burying them. So today, when I found a Tweet I wanted to Reply to, I would click the Retweet button and then add my comment.
That gives it more visibility to my audience and will be more appreciated by the original Tweeter.
12/9/17: Definitely been slacking. Only did 1 today. Haven't seen a lot of email signups so far- only 2 the last time I checked Google Analytics. The make money online space is one of the worst spaces on Twitter- everyone is just spamming their garbage and adding 30 hashtags.
That said, the #contentmarketing hashtag has some thoughtful people in it- though it feels like the same content gets recycled over and over in the past 3 weeks. Honestly, my lack of success so far is my own fault- I think I need a more specific strategy and goal.
For instance, if I wanted to score a guest post on a big SEO site like Search Engine Journal, I should be networking with their writers. My ambition from the start was to thoughtfully comment, gain exposure on Twitter, and drive targeted prospects to my site, and hopefully capture them on my email list.
I think the largest problem is that I've historically been allergic to promotion. I started building affiliate websites so I wouldn't have to rely on anyone else for money. To promote NicheFacts, however, it requires being more public, more solicitous.
If I had a gun to my head, I'm sure I could be more successful- but I'd probably switch up my goal from email signups and traffic to something like guest posting and link-building opportunities.
That might be another challenge- rather than almost mindlessly replying to Tweets- list out the influencers I want to engage with and butter them up for an 'ask'. That would also be a rewarding challenge on a personal level- if I want to scale and grow, it does require relying on others for leverage.
Post-Mortem
On the whole, I'm somewhat disappointed with the outcome. As a reminder, my 3 goals were:
Increased traffic
Email sign-ups
Increased influencer visibility
As you can see on the Google Analytics screengrab below, during the 11/12/17-12/12/17 time period I received 100 Twitter Sessions from 43 New Users with 1 email signup.
Pretty weak considering how much effort I put into the challenge. Though to be fair, my effort really trailed off in the beginning of December. And there was a big dip during the Thanksgiving holidays when I was actually putting in some solid engagement effort but no one was there to notice.
In terms of increased influencer visibility- I know that I got some, but there's no way of actually analyzing that. I probably should have had a more concrete ROI- like if I had focused on getting guest posts on influencer sites or mentions by big-name SEOs, etc.
Things I could have done better:
Perhaps focusing on fewer comments with a greater focus on quality, or doing it on a time basis (30 minutes a day)

Be more aggressive outreaching and promoting my challenge
Indeed, the biggest win that I had came from connecting with Kyle Bailey on 11/16/17- I let him know that I had featured him in my daily writeup. Consequently, he gave me a few shoutouts on Twitter which really helped me get a spike in engagement.
I think my inability to really gain traction in social media can be attributed to my personal reticence and actual distaste for personal promotion. It feels somewhat ungainly and unnatural to publicize myself.
In fact, my obsessive focus on building up my 'SEO empire' was a big 'f*ck you' to the corporate, 9-to-5 lifestyle where you have to depend on political bosses for pay increases, promotions and internal corporate exposure.
I like doing things on my own- I don't like having to rely on others to achieve my goals. In the world of 'make money online', however, you really need to promote yourself because it is a aggressively competitive community.
All in all, I think the Twitter challenge helped me become more comfortable publicly contributing and engaging online.
For others, I still think it can be a powerful strategy- especially if you're in a niche outside of 'make money online' and if you're more natively comfortable than I am publicly engaging with your audience.
Tips For Others Embarking On The Challenge:
Choose a measurable goal (I created a Conversion Goal in Google Analytics to track email signups from Twitter, for example)

Promote the challenge as hard as you can- let other people know and gain exposure

Actively include @ mentions in your Replies to loop in influencers.

Engage with big brands- they often have dedicated community managers that will spotlight your Reply in some way.

I think Likes are largely meaningless- it's an empty gesture that doesn't really drive results- aim to get ReTweets.

Consider doing 5 a day instead of 10- focus on quality of responses not quantity.

Craft your own Twitter profile to optimize for click throughs to your site- include a Pinned Tweet that links to your site and use your profile blurb to link back to your site.
Let me know in the comments section what you think of my Twitter challenge.
Last Updated on July 29, 2022 by Ryan Nelson